NEWYou can now listen to Fox News articles!
Pennsylvania U.S. Senate Candidate Dave McCormick conceded in the Republican primary election to Mehmet Oz on Friday evening.
McCormick made the announcement while speaking to a group of supporters along with media as he described the recount as "largely complete."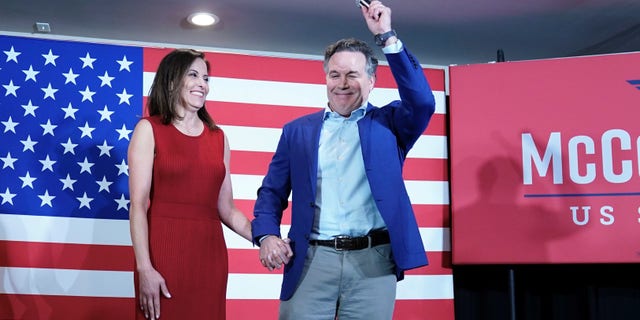 Republican candidate for a Pennsylvania U.S. Senate seat, Dave McCormick, right, and his wife Dinah Powell, talk to supporters during his returns watch party in the Pennsylvania primary election, Tuesday, May 17, 2022, in Pittsburgh. (AP)
He called Oz to congratulate him on Friday, and encouraged his supporters to back him in the upcoming November election against Democrat John Fetterman.
CLICK HERE TO GET THE FOX NEWS APP 
"It's now clear to me with the recount largely complete, that we have a nominee. And today I called Mehmet Oz to congratulate him on his victory. And I told him what I always said to you, that I will do my part to try to unite Republicans and Pennsylvanians behind his candidacy, behind his nomination for the Senate. It is so important for Pennsylvania, so important that we beat John Fetterman," McCormick said.
Oz, who received former President Trump's endorsement in the race, reacted to McCormick conceding, saying, "This evening I received a gracious phone call from David McCormick and am tremendously grateful for his pledge of support in the fall election. We share the goal of a brighter future for Pennsylvania and America. Now that our primary is over, we will make sure that this U.S. Senate seat does not fall into the hands of the radical left, led by John Fetterman. I look forward to campaigning in every corner of the Commonwealth for the next five months to earn the support of every Pennsylvanian."
The Pennsylvania Department of State said it would continue its recount, despite McCormick's concession. 
"Despite the fact that David McCormick has conceded the Pennsylvania Republican U.S. Senate race to Mehmet Oz, the automatic recount of the race will continue as ordered by the Secretary. The deadline for the defeated candidate to waive the recount has passed, and there is no provision in the election code that authorizes the Secretary to stop an automatic recount once it is ordered. Counties should continue their efforts to complete their recount by noon on June 7 and submit their results to the Secretary by noon on June 8." 
Kathy Barnette, a former candidate in the Pennsylvania U.S. Senate Republican primary election, said "I believe its time to look forward to bringing new leadership to PA and I look forward to helping flip PA red with my good friend Senator Doug Mastriano."