NEWYou can now listen to Fox News articles!
Pope Francis was forced to postpone his apostolic visit to the Democratic Republic of the Congo, citing advice from his doctor.
The visit was scheduled for early July and was meant to be a short tour of the DRC and the South Sudan. A new date will be decided in the future.
"At the request of his doctors, and in order not to jeopardize the results of the therapy that he is undergoing for his knee, the Holy Father has been forced to postpone, with regret, his Apostolic Journey to the Democratic Republic of Congo and to South Sudan, planned for 2 to 7 July, to a later date to be determined," the Vatican announced.
The pontiff began being escorted via wheelchair to his appearances last month – the first time he's needed such support since his surgery in 2021. 
POPE FRANCIS SEEN PUBLICLY IN WHEELCHAIR FOR FIRST TIME, CITING KNEE PAIN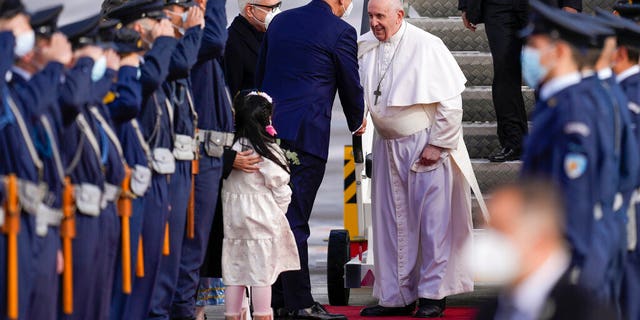 Pope Francis is greeted by Greek Foreign Minister Nikos Dendias as he arrives at the Eleftherios Venizelos International Airport in Athens, Greece, Saturday, Dec. 4, 2021. Pope Francis arrived to Greece Saturday for the second leg of his trip to the region with meetings in Athens aimed at bolstering recently-mended ties between the Vatican and Orthodox churches.  (AP Photo/Thanassis Stavrakis)
Last July, the pope underwent surgery on his colon and was hospitalized for almost two weeks. Since the operation, the pontiff has regularly complained of knee pain and other side effects that make mobility and physical exertion difficult. 
Pope Francis has previously opted to sit when possible instead of standing for prolonged periods of time. 
On Easter Sunday, the pope participated in a service at the Vatican and was able to walk the long aisle to his seat by using an attendant as support.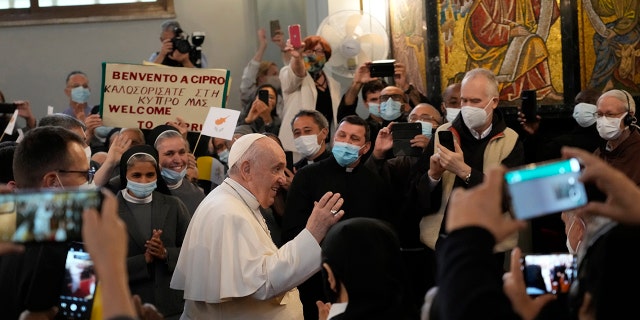 Pope Francis arrives to attend a ceremony at the Maronite Cathedral of Our Lady of Graces in Nicosia, Cyprus, Thursday, Dec. 2, 2021. Pope Francis' trip to Cyprus and Greece is drawing new attention to the plight of migrants on Europe's borders and the disconnect between Francis' Gospel-driven call for countries to welcome and integrate them and front-line governments that are increasingly unwilling or unable to let them in.  (AP Photo/Alessandra Tarantino)
CLICK HERE TO GET THE FOX NEWS APP 
Pope Francis added fuel to rumors about the future of his pontificate by announcing he would visit the central Italian city of L'Aquila in August for a feast initiated by Pope Celestine V, one of the few pontiffs who resigned before Pope Benedict XVI stepped down in 2013.
Timothy Nerozzi is a writer for Fox News Digital. You can follow him on Twitter @timothynerozzi and can email him at [email protected]